Baseplate
ShadowFit Baseplate – 3-piece baseplate featuring a unique flexible heel loop and completely anatomical fit to provide intuitive mobility without sacrificing performance. The result is an ultra light binding that allows your whole kit to flex together.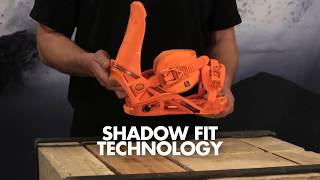 Composite | 45% – Get the most out of your bindings. More rigid than the competitor's low end plastic, more durable and comfortable than aluminum. Performance is maximized, comfort is undeniable.
Adjustable Toe Ramp – Super easy to handle adjustability for the best possible transmission on toe edge.
Kevlar Quickwire – For maximum support and quick transmission of any movement.
Unite Disc Compatibility – The baseplate is compatible with Salomon's super easy to use rental system UNITE.
Straps
Micro Max Strap Adjustments – Fast and precise micro adjustments let you optimize the straps centering on your boot for maximum comfort and support.
Locked-Up Toe Strap – Ultimate envelopment for perfect boot hold and ultra lightweight and durable.
Shadow Strap – The Shadow Strap is designed to offer a premium secure connection around your boot assuring a perfect fit, ultimate comfort and flex, direct energy transmission, and a lightweight construction.
Buckles
MP Ratchets – Highest performing and quality ratchet found on all Shadow Fit bindings. Better tightening, less ladder damage, more power and precision with each click.
Aluminium Buckles – Enjoy the best of light materials with a quick and powerful cranking action and smooth release.